Product Description
With the rapid development of society, people's understanding of products gradually deepens, and customers' requirements for the products they use become more diversified and more precise.
In the spirit of customer demand is the highest requirement of the product, Refworld organizes the company team to create a targeted series of products to achieve a diversified product series with multiple models and multiple functions to meet customer diversification The product demand and the selection of accessories.
In order to achieve the above goals, the BLUE Easy Solid Install Kits series came into being, adhering to the standard and universal design concept of accessories, giving customers the largest product selection space. The products used by users are determined by the users themselves, and the diversified product needs of customers are met with standardized parts configuration.
BLUE Easy Solid Install Kits series realize one machine with multiple models, structural parts and most of the accessories can be used in common, adjust different types of compressors, and then our company can match the corresponding other accessories to meet customer requirements.
The following is the matching instructions for 5HP Series:
5HP Easy Solid Install Kits series, the development standard working condition is T1=+45℃, T0=-15℃. It belongs to the Small 4-Cylinders Compressor piston compressors. It can cover all small Small 4-Cylinders Compressor models from 3HP to 9HP, which can realize multiple types of one machine and multiple uses of one type, simplifying complex products.
The following matching table only lists BITZER compressors and RFC compressors as examples:
Compressor Type
Application
Bitzer Model
RFC Model
Easy Solid
Install Kits
Series Code

Matched condenser model
Small 4-Cylinders Compressor
M/L Temp
4FES-3
RFC-4FC-3.2
90-61002
LCH-12/33 LCH-15/42 LCH-19/52
M/H Temp
4FES-5
RFC-4FC-5.2
M/L Temp
4EES-4
RFC-4EC-4.2
M/H Temp
4EES-6
RFC-4EC-6.2
M/L Temp
4DES-5
RFC-4DC-5.2
M/H Temp
4DES-7
RFC-4DC-7.2
M/L Temp
4CES-6
RFC-4CC-6.2
M/H Temp
4CES-9
RFC-4CC-9.2
Compressor, as the heart of the refrigeration unit, has always been the main consideration for the customer when choosing a unit.
BLUE Easy Solid Install Kits series deeply appreciate the customers' preference for different brands of compressors. Therefore, it combines the most popular brands of compressors on the market and summarizes them into a framework. When you choose a 5HP Easy Solid Install Kits the compressor is matched according to the needs of customers. Save inventory and reduce inventory costs.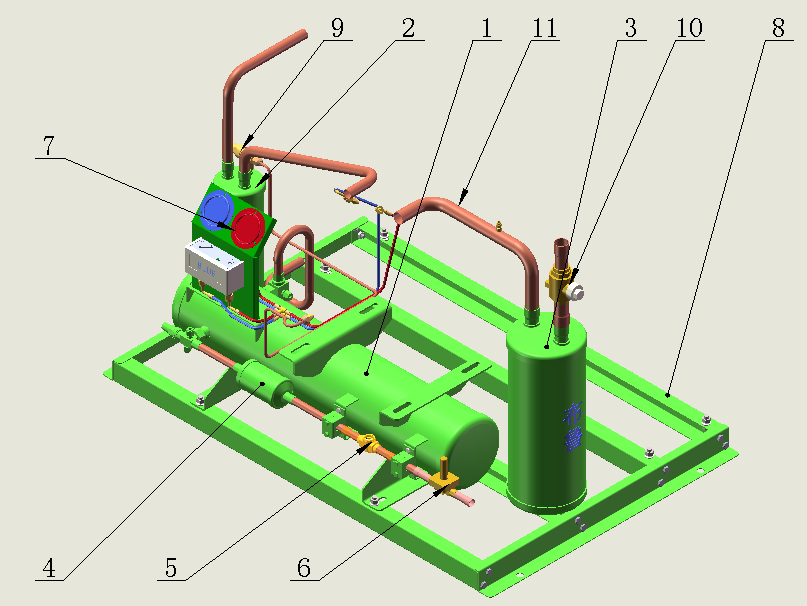 | | | | |
| --- | --- | --- | --- |
| No. | Item | Description | Category |
| 1 | Liquid receiver | Horizontal type with compressor mounting feet, Inlet and outlet rotalock valves, Gauge board and clamp mounting feet | Standard |
| 2 | Oil Separator | | Standard |
| 3 | Suction Accumulator | | Standard |
| 4 | Filter Drier | | Standard |
| 5 | Sight Glass | | Standard |
| 6 | Solenoid Valve | Valve body with Coil | Standard |
| 7 | Pressure control set | Pressure controller, Pressure hose,Oil gauge and install board | Standard |
| 8 | Frame Set | Frame with screw bolts | Standard |
| 9 | Oil Retrun check valve | For Oil separator oil return use | Optional |
| 10 | Ball valve | Suction accumulator Inlet | Optional |
| 11 | Connection Pipe set | Discharge,Liquid supply、Gas return, Oil return, Clamp | Optional |
Hangzhou Refworld Mechanic&Electric Co.,Ltd
REFWORLD REFRIGERATION INDUSTRY CO.,LTD was established in 2006,which named Fenghua Refworld Refrigeration Industry Co., ltd at that time. Refworld is a professional industry& trade company to supply all kinds of refrigeration parts and equipments.By now, Refworld has five subsidiary factories. 1.pressure vessel and valves (www.bluerefrigeration.com) 2.freezer and refrigerator compressor (www.comptek.com.cn) 3.evaporator & condenser &condensing units (www.luther-bach.com) 4.air conditioner tapes and installation box (www.yunxintape.com) 5.axial fan motor (www.airvent.com.cn) Refworld implemented with 5S management strongly for all the products line, we devote to provide best quality products with competitive price with the policy [credit is the basis, quality is the first", try to be the one-stop supplier for customers around the world. We conduct our business in over 30 countries and regions throughout Europe, Asia and the Americas and we have received many business awards and acknowledgements of our success. We take part in most of the refrigeration exhibition around the world, such as AHR EXPO MEXICO, CHILLVENTA IN GERMANY,MCE IN FRANCE, AHR EXPO USA, ACREX INDIA,BANGKOK RHVAC IN THAILAND,etc.This bring us a lot of chance to cooperation with some world class customers,and also gain more popularity for our company.Meanwhile,we use some E-Business Platform like alibaba to get more opportunities. Refworld work diligently to satisfy the needs of our employees, suppliers, customers and society. We warmly welcome all refrigeration manufacturers and wholesalers to contact and discuss business with us ,we hope to create refrigeration industry of a better future with you all.
Company Name: Hangzhou Refworld Mechanic&Electric Co.,Ltd
Product/Service: Conderser Drain Pump , Mapp Gas Torch , Pressure vessel , A/C Installation Accessories , Condensing units , Mapp Gas Torch
Contact Person: Ms. LISA
Tel: 86-0571-64175881